WHEN YOUR LIFE IS ON THE LINE
Eradicates Fentanyl & Xylazine in 60 Seconds
YOUR SAFETY MATTERS WITH SoRite DECON
SoRite DECON is
TESTED & PROVEN
SoRite® DECON is your safety net when investigating narcotic crimes. The product has been tested and verified at a 3rd party Federal Drug Administration (FDA) and Drug Enforcement Agency (DEA) laboratory. Results have proven SoRite DECON destroy opioids and narcotics in 60 seconds! 
The treated samples and reference materials (fentanyl and heroin) were analyzed by H1 nuclear magnetic resonance (NMR) to determine whether the treatment was effective in degrading opioids and narcotics.
SORITE DECON IS PROUDLY MADE IN THE USA
At Aseptic Health, SoRite DECON's parent company, we take pride in our American heritage and are committed to keeping our manufacturing processes in the United States. All of our products are designed, developed, and crafted right here in America, using only the highest-quality materials. We believe in the value of hard work, dedication, and the American spirit, and it shows in every product we create. Based on this obsession, all products are Berry Amendment approved. We are proud to be a Made in America company and will continue to work towards making sure our products are the best of the best, especially for our first responders, military and all who keep us safe.
DEA Seized Fentanyl in 2022
lbs Fentanyl Powder Seized
I've seen many drug test results and these are by far the best. It fully decontaminated the tested vehicle better than anything we've ever used. It has literally decreased labor times because of how in-depth and efficiently it works the first time, but also gives me peace of mind knowing the phenomenal results that it will get rid of all residue
AZ Bio
Over the years we have worked a lot with the Aseptic Health Team and we are extremely excited to work with SoRite Hospital Disinfectant and SoRite Decon. Suffice it to say that in 26 years in this industry, I have never seen products with such compelling stories. Whether you are talking about the speed, performance, safety, or pricing – these are stories that need to be told and that are receiving a very warm welcome in many industries.
Ken Sparrow, CEO of ADI Ventures LLC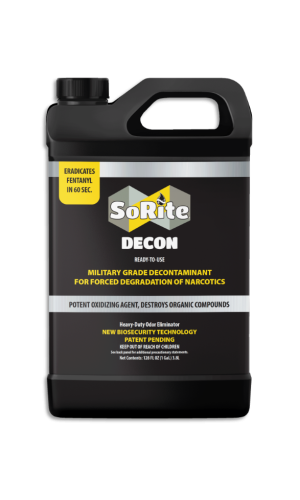 DON'T MISS OUT ON OUR SISTER-BRAND